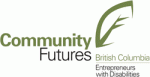 Long Business Description
Community Futures is the only organization throughout rural BC with a mandate for small business and community economic development. Our experts offer local assistance from 34 offices throughout rural BC. Community Futures offers a variety of services and tools to help entrepreneurs and small business owners achieve their goals, including business support services, business planning advice, loans and self employment assistance.
Business Address
C230-7871 Stave Lake Street
Mission, BC
V2V 0C5

Long Business Description
Sarkany Management Inc. offers an integrated approach in developing winning strategic HR solutions that enable you to attract, optimize and retain top employees. We will work closely with you and your organization to align your people strategy with your business strategy.
Business Address
PO Box 16022
Sumas Mountain PO
Abbotsford, BC V3G 0G6